A few weeks ago I picked up the One Page Bucket List course from Paul J Coleman. I don't think I've ever bought anything from him before and after looking him up on Facebook and discovering we weren't friends, so I don't think I even know him. That never stops me from buying a product from someone though, so I spent the money and grabbed it.
I was a bit "put off" by the sales page. I don't know if he just writes for his list or what, but this isn't your typical sales page. I mean a sales page's job is to make you buy and just because this doesn't look like a "usual" sales page doesn't mean that it's not a good product. Many times, someone is great at teaching something, but horrible at the marketing part of it. Not saying this person is horrible at anything, just trying to give you a lesson here as a buyer. 😉
So, what's the business model behind this product? It's all about creating and selling low content digital and physical products. Examples of low content products are journals, lists, planners, coloring books, puzzle books, log books, and about 1 million other things. Creating and selling these is attractive because it doesn't take a lot of content to create them
The product teaches a simple idea for something that you can create and sell to others. I do like the idea. A LOT!
It's all about creating a bucket list product for people to use to check off their bucket list items, and there are a ton of bucket list ideas out there for you to create these kinds of products around. This is a VERY profitable idea, and could be the start of a very profitable low content product business which is something I've been wanting to start for a very long time. 🙂
And, he gives you different options for creating these bucket lists. You can do them as physical product and/or digital products. And even resources where you can get physical bucket list products created and get your digital bucket list products created.
And beyond creating these one-page bucket lists products he gives you a ton of other niches and ideas that you can create one page products/digital downloads for, and how to use a well known site to generate a never ending supply of profitable ideas.
Proof That One Page Bucket List Profits Works:
I have NOT done this for myself, so I cannot say I have personally made money with it. But after researching I found several people making money with both digital and physical bucket list products in so many different niches. There are so many low content products you could create from this ONE money making idea.
What I Didn't Like About One Page Bucket List Profits:
Not a lot of showing HOW TO do this. It's a low cost instructional REPORT, so I didn't expect to be shown. It just gives you the no fluff overview of what the money-making idea is along with additional ideas you can use, but actually DOING it you're left to do on your own.
You need to come up with your idea, decide if you're going to go digital or physical with it (yes you can do both), and then you need to either figure out how to create it yourself or where to get it created. Although he did give resources where you can get your idea created or create it yourself, so that was a HUGE plus.
There wasn't much I didn't like about this product. It's a well created product, the idea is well explained, and there are a ton of resources and additional ideas in it.
Who Is One Page Bucket List Profits For?
So, who is this product for? This is more geared towards you creative types. Now this isn't a total business model. This is just a money making idea (actually several ideas) for an entire business model and that business model is the low content product creator business as I said above. So, if you're brand new to this you might want to learn the low content business model first. Here is a review I did for Low Content 101.
BUT… This is even something a low content product creator newbie could put to use and start making money with.
What You Actually Get When You Purchase One Page Bucket List Profits:
The product is a PDF download totaling 21 page. It's a quick and easy read with resources for everything he talks about for this money making idea.
Who Created One Page Bucket List Profits:
The product creator is Paul J Coleman. As I said earlier, I don't think I know him. I've been in business for a long time and have met thousands of thousands up people and I'm getting old *lol* so maybe I have, but I did a little research on him and found he's got at least 10 other products (with hundreds and hundreds of sales) he's created and most are for the low content product creator business model, so he obviously knows a thing or two about this business model.
I didn't find much by searching him out on Google, but sometimes that's a good thing, right?
Proof Of My One Page Bucket List Profits Purchase:
Sometimes when I do reviews I just buy the product and review it. Sometimes product creators come to me and ask me to do a review. This one I actually bough because as I said I do want to start a low content product business.
Here's my proof of purchase…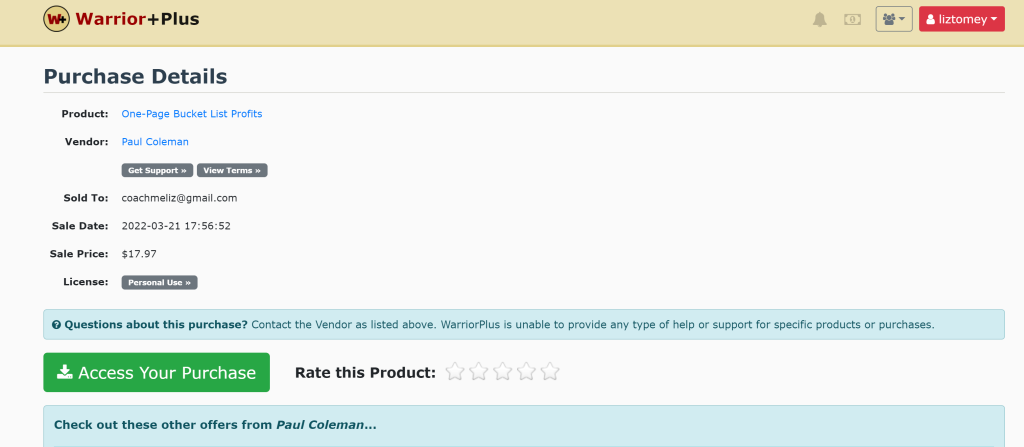 One Page Bucket List Profits Review Wrap Up:
After going through this product, I find the idea in it to be a good and profitable idea. If you want to quickly and easily create low content products (either digital or physical ones) this is a great resource to have! I've added it to my "low content product ideas" folder on my hard drive so when I start with this business model this WILL be one of the ideas I use. I recommend the One Page Bucket List Profits course!
You can get it at https://www.OnlineBizTruths.com/OnePageBucketListProfits
Note: I partner with AWESOME companies I TRUST that offer products that help YOU! If you purchase through my partner links, I get paid for the referral at no additional cost to you! Read the affiliate disclosure for more info.